Artist & Printmaker: Allison Mackenzie
Artist Profile - Allison Mackenzie

Born • Motherwell, Scotland

Fine Art Printmaking Degree • Exeter College of Art and Design (now the University of Plymouth)

Lantern Painting under the guidance of Mr Takeo Takahashi • Yuzawa City Edōrōkan, Japan

Graphic and Web Design • Sessions.edu (New York)

Introduction
About the artist
Allison Mackenzie is a Scottish born artist and printmaker who has spent many years divided between Japan and the UK. Born in Motherwell and raised in Luton, from an early age she was fascinated by East Asian cultures, with a particular fondness for all things Japanese.
Early Influences
Her interest in Japanese ceramics was piqued after learning about the St. Ives potter Bernard Leach (1887-1979) who had been an apprentice to the tradition of the renowned Japanese potter Ogata Kenzan (1663-1743). However, her first day in the printmaking studio took her on a different path with the introduction to Ukiyo-e (traditional Japanese woodblock print) and artists such as Utamaro (1753-1806).
Continuing on to study for her Bachelor's Degree in Fine Art Printmaking she concentrated on the art of Collagraphy (relief or intaglio printing from collage) mostly working in monochrome under the guidance of the printmaker Marek Laczynski.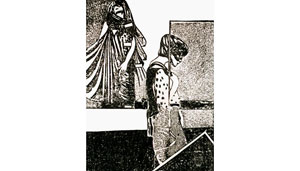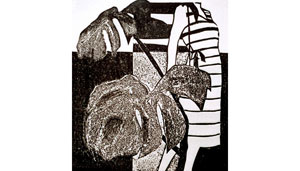 Japan
On arriving in Japan she began working more with stencil printmaking and collage. As a result her images became more colourful and shaped by Japanese art, life and culture.
She was further influenced by the Japanese poet and painter Yumeji Takehisa (1884-1934)
From 1996 Allison became involved with the Tanabata Edōrō Matsuri in Yuzawa City, Akita Prefecture. Under the tutelage of Mr Takeo Takahashi of the Yuzawa Edōrōkan, she began painting Edōrō (large paper picture lanterns) for the annual Tanabata festival.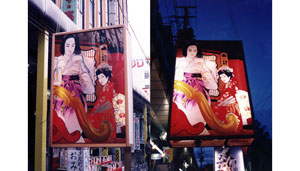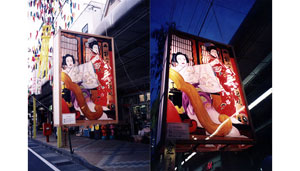 Digital
During her last few years in Japan and after the move back to the UK, Allison completed a Master's Certificate in Graphic and Web Design with Sessions College for Professional Design. Experimenting with the possibilities of layers in digital applications, her art soon developed to include digital printmaking and illustration in addition to graphic and web design.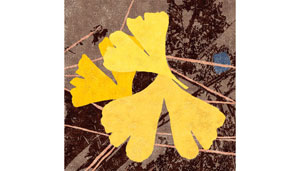 Allison currrently lives and works in South Wales.
A selection of SAKURA A5 & A6 Notebooks and long notepads, featuring designs by Allison Mackenzie, are available on sale • ONLINE • UK Outlet information

SakurayaDesign • Find our NEW online shop on ETSY • SAKURA Etsy shop link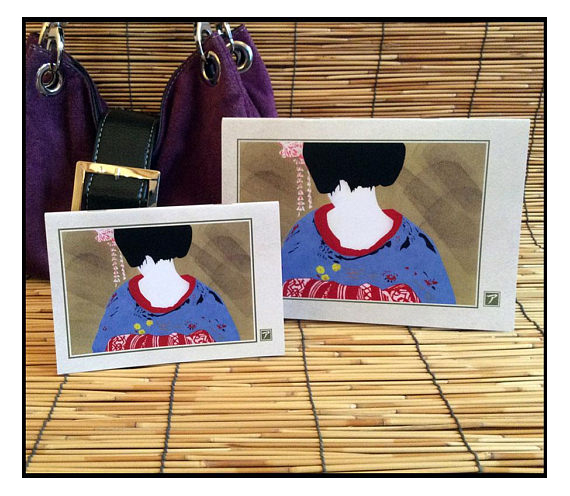 Limited selection of SAKURA notebooks with designs by Allison Mackenzie available from:


Black Mountain Fabric • 29 Cross Street, Abergavenny, NP7 5EW •



Cardiff Korean & Japanese Food Shop • CKJ Foods in Cardiff •

116 Woodville Road, Cardiff CF24 4EE (Open 7 Days Mon-Sat 10 am Sun 11am – 7 pm)


Fizzyville • A unique boutique within Abergavenny Market Hall •
•



KimonoKimono • Kimono & Accessories, Bristol • Website • email •
Exhibitions & Events
Oct-Nov 21 • Awagami International Mini Print Exhibition • Tokushima, Shikoku, JAPAN
May-Jun 17 • BLOOM - Spring Exhibition • Cardiff M.A.D.E. Cardiff, Wales
Jan 09 • Group Exhibition • GPF Gallery, Newport, Wales
Apr 07 • Allison & Michael Mackenzie: Farewell Exhibition • Gallery Nawa, Nagahama, JAPAN
Oct 06 • AIN - Art In Nagahama - International Arts Festival • Nagahama, JAPAN
Nov 05 • 2nd Shizuoka International Friendship Festival • S-Pulse Dream Plaza, Shizuoka, JAPAN
Oct 05 • AIN - Art In Nagahama - International Arts Festival • Nagahama, JAPAN
Dec 04 • Britain: Our Country • Toda Books, Shimizu Ginza, Shizuoka, JAPAN
Sep 04 • Deep Sea Fish Have More Fun • Shimizu Culture Centre, Shizuoka, JAPAN
Sep 04 • 1st Shizuoka International Friendship Festival • S-Pulse Dream Plaza, Shizuoka, JAPAN
Jun 04 • A View of Japan: Prints, Photographs and Calligraphy • Toda Books, Shimizu Ginza, Shizuoka, JAPAN
May 99 • Kabuki Project Performance (foyer exhibit) • Japanese Embassy, London
Aug 98 / 97 / 96 • Tanabata Edoro Picture Lantern Festival • Yuzawa City, Akita, JAPAN
Sep 96 • Exhibition of Fine Arts and Technology • Takanosu City, Akita, JAPAN
Feb - Mar 96 • A Winter Exhibition of Prints and Photographs - Allison & Michael Mackenzie • Alice Cafe, Grand Hotel & Yuzawa Community Centre, Yuzawa, Akita, JAPAN
Mar - Aug 94 • Sakura: Japan Arts and Crafts Open days • Sakura Study Centre, Luton
Mar - Apr 94 • Sakura: Cafe Exhibition • 33 Arts Centre, Luton
Mar 94 • Women's Room • Gallery Thirty Five, Luton
Jan - Mar 94 • Sakura: Exhibition of Art and Calligraphy • St George's Theatre, Luton
Jul 93 • Three Crazy Women (Installation) Allison Mackenzie, Junko Shimogo, Zena Sakowski • Gallery Nawa, Nagahama, JAPAN
May 93 • Allison & Michael Mackenzie: An Exhibition of Prints and Photographs • Gallery Nawa, Nagahama, JAPAN
Apr 93 • Allison & Michael Mackenzie: Joint Exhibition • Gallery Rakuza, Nagahama, JAPAN
Nov 92/91 • Foreign Artists Exhibition '92/'91 • Nagoya International Centre, JAPAN
Oct 92 • AIN - Art In Nagahama - International Arts Festival • Nagahama, JAPAN
Sep 92• Nagahama City Exhibition • Art and Culture Hall, Nagahama, JAPAN
Nov - Dec 91 • Neo Independants 1991 • Gallery Hypercritical, Minato Ku, Tokyo, JAPAN
Oct 91 • Prints by Allison Mackenzie • Gallery Nawa, Nagahama, JAPAN
Nov 89 • Gallery Colbert Print Exhibition • Gallery Colbert, St. Albans
Nov 84 • Pictures of People • Exeter Arts Centre, Exeter