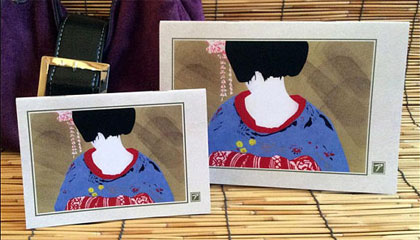 Notebooks by Sakura • Designs © Allison Mackenzie
SAKURA Newsletter from Allison & Michael




9 May 2022

皆様こんにちは。

Hello Everyone.
Following our successful Simple Printing Workshops for Sero Zero-Waste at Tredegar House, we would like to thank Sero for the opportunity to run the workshops and also for stocking our Sakura Notebooks in their shop. Pop along to Sero Zero-Waste for your refills and browse the fantastic range of sustainable goods on offer there. (see more information below)

Abergavenny Steam, Vintage & Veteran Rally 2022
Friday 3rd and Saturday 4th June 2022 sees the return of the Abergavenny Steam, Veteran & Vintage Rally which will be held in Bailey Park, Abergavenny.
For further details of the Steam Rally • click here for the Abergavenny Steam Rally Website. and • here for advance online ticket discounts.
Sakura will be in the Craft Tent for ONE day only - on Saturday 4th June where we will have a display of original artwork, notebooks and other craft items, designed by Allison Mackenzie, available for sale on the day.
Come along and have a chat with Allison and find out more about the upcoming Paper & Fabric Printmaking Workshops with Sakura & Black Mountain Fabric to be held in Abergavenny in September 2022.

Food & Craft Market at Tredegar House (Saturday 9th July 2022)
Sakura & Karen O'Shea Art will be running a stall at the Cotyledon Food & Craft Market at Tredegar House on Saturday 9th May 2022 from10am-4pm with a variety of art and craft available for sale. (free entry into the market area)
For online information • click here for Cotyledon Food & Craft Markets on facebook.

Printmaking Workshops • Sakura & Black Mountain Fabric
From September 2022, Sakura will once again be collaborating with Black Mountain Fabric in Abergavenny to bring you a variety of printmaking workshops.
Paper Stencil Printing Workshop (Sunday 11th September 2022) Have a go at designing, cutting and printing a variety of items using a simple paper stencil technique.

Stencil Workshop • Image © Sakura
Lino Cutting and Print on Fabric Workshop (Sunday 18th September 2022) Design and learn to cut a lino block which you will use to print onto fabric and mount into a frame to take home.

Lino Workshop • Image © Sakura
For further details and booking information:
Call Black Mountain Fabric on 01873 858827 or drop in to the store at 29 Cross Street, Abergavenny, Monmouthshire NP7 5EW.
For online information • click here for the Black Mountain Fabric website. (Please note places will be limited)

Thank you very much for your ongoing support, and we look forward to seeing you at some of our activities in 2022.
Best Wishes
From Allison & Michael Mackenzie
マッケンジー アリソン とマイケルより

Please keep a regular check on our SAKURA Information page, introducing you to various Artists & Creatives, Events & Workshops, information & other useful links.



Sakura - Onlne store on Etsy
• SakurayaDesign on Etsy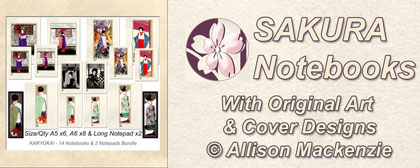 Designs & Images © Allison Mackenzie

Black Mountain Fabric in Abergavenny is a treasure trove of materials and a great place to learn or improve your sewing and crafting skills. Keep an eye on the Black Mountain Fabric facebook page for newly arrived fabrics, special offers and bargains! • Black Mountain Fabric on Facebook



Tuffet Workshop • Image © Black Mountain Fabric
Black Mountain Fabric & SAKURA are collaborating once again with more Printmaking Workshops (Paper Stencil & Lino Fabric printing) in Abergavenny from September 2022 • WATCH THIS SPACE!

For Further Details and Bookings PLEASE CONTACT:

Black Mountain Fabric • 29 Cross Street, Abergavenny, NP7 5EW (01873 858827) • Black Mountain Fabric Website



Louise Collis Landscape Artist.


Paintings - Images © Louise Collis
Louise Collis is a Welsh landscape painter with a love of colour and painting outdoors 'en plein air'. When she isn't out and about with her easel, she is usually working at home or in her Abergavenny studio. This year she will be continuing to create her collection of daily paintings throughout January 2022.


Kev F Sutherland Comic Writer & Artist.

Best known for his work on The Beano and Marvel comics and his highly motivating COMIC ART MASTERCLASSES, Kev F has gone one step further with his reimaginings of Shakespeare in the form of graphic novels. More recently he has been creating a range of Pop Star colouring books as well as blank comic books for budding comic strip artists.

Image © Kev F Sutherland

Newport Makerspace • Creudy Casnewydd
Newport Makerspace is a NEW community workshop located on the first floor of the Wastesavers Reuse Centre in Maindee, Newport, South East Wales. This exciting new makerspace comprises three workshops - Metalwork, Woodwork and Craft & Technology. With an extensive range of equipment, these facilities enable members to work and learn together in designing, creating, repairing or upcycling.


Jill Fanshawe Kato Ceramics inspired by nature.


Images © Jill Fanshawe Kato
Jill Fanshawe Kato is a Japan-trained English potter. Working from her studios in North London and Devon, she creates a magnificent array of functional and sculptural ceramics inspired by her lifelong love of nature. Jill regularly exhibits, lectures, demonstrates and teaches in the UK and all over the world.

Japan-UK Events Calendar:

SAKURA Goods

Available at certain outlets in the UK: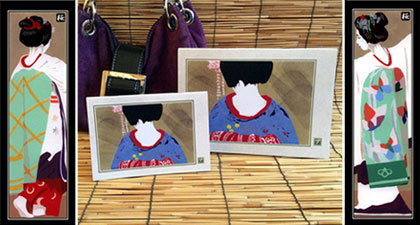 Dancer • Maiko (s) • Waterfall - Images © Allison Mackenzie
***Please check with the outlets directly re: Closures, Stock Availability & Workshops***









Other Information:

For other SAKURA Links & Information:

FINALLY I would like to thank all of you who follow SAKURA online - on our website, Facebook, Twitter & Etsy. We sincerely wish good health and happiness to everyone.
Thank you again for taking the time to read this email.

マッケンジー アリソン とマイケル

Allison & Michael Mackenzie



If you have any relevant upcoming Art, Cultural or Educational events you would like us to include in our next newsletter please email Allison: allison@sakura-ace.co.uk.

We will consider the details and include them in our newsletter if we find them appropriate.





(If you wish to *add or **remove your email address please see details at the end of this email)



* If you would like to be ADDED to this email update please click on the email address below and type in your full name and email address and the text

'Please ADD me to the SAKURA email update'



** If you would like to be REMOVED from this email update please click on the email address below and type in your full name and email address and the text

'Please REMOVE me from the SAKURA email update'